Donnerstag, 19.01.23 / 20:00 Uhr


Karolina Strassmeyer & Drori Mondlak / KLARO!

Quiet Fortitude - CD Release Concert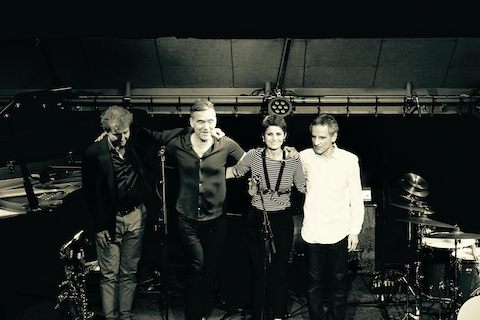 Karolina Strassmeyer - Alltsaxophon
Hans Vroomans - Piano
Aram Kersbergen - Bass
Drori Mondlak - Schlagzeug

Die Worte Quiet Fortitude stehen für die unerschütterliche Hingabe, das Durchhaltevermögen und die Liebe zur Improvisation, die uns auf unserer musikalischen Reise vorantreiben. Unsere neueste CD öffnet neue Welten, geprägt von spontaner Improvisation verwoben mit komponierten Stücken.

KLARO! verbindet die Lyrik der europäischen Klassik und Folklore mit der rhythmischen Kraft des amerikanischen Jazz und der harmonischen Raffinesse der zeitgenössischen Musik. Der musikalische Bogen spannt sich von kraftvoll, spritzigen Grooves zu poetischen Balladen und explosivem Swing. Egal in welchem Genre sich die Musiker von KLARO! bewegen, ihre Musik ist stets voller Passion, Neugier und Lebenslust.

Von den Lesern des amerikanischen Jazzmagazins Downbeat wurde die Ausnahmemusikerin Karolina Strassmayer mehrmals unter die weltweit fünf besten Altsaxophonisten gewählt. Sie erspielte sich eine ausgezeichnete Reputation in der New Yorker Jazzszene und ist seit 2004 die erste Frau in der mit mehreren Grammys ausgezeichneten WDR Big Band Köln.

Doug Ramsey schreibt, "one of the most interesting alto saxophonists of her generation, Strassmayer has absorbed, internalized and personalized what John Coltrane gave to jazz and often evokes him purely on the power of her tone and inflection."

Drori Mondlak ist einer der herausragenden Jazz-Schlagzeuger und Bandleader. Seine eklektische Arbeit in mehr als zwanzig Jahren in New York haben Mondlak mit Jazzgrößen wie Frank Foster, Joe Williams, Chris Potter und Ernestine Anderson zusammengeführt. Mondlak ist auch in der europäischen Jazzszene angekommen und spielte mit Lee Konitz, Sonny Fortune, Barbara Dennerlein, David Friedman, Lynne Arriale und Nicolas Simion.

"A drummer of extreme subtlety and melodic refinement that reminds me of Roy Haynes in his best moments." - Arnaldo Desouterio.

Der holländische Pianist Hans Vroomans ist nicht nur Mitglied des mit zahlreichen Grammys ausgezeichneten Metropole Orkest, sondern auch ein äußerst gefragter Begleiter, zuletzt mit Al Jarreau, Ivan Lins und John Scofield. Außerdem gehört er zur Fakultät des Konservatoriums von Amsterdam und gibt weltweit Workshops und Meisterkurse.

Aram Kersbergen studierte am Rotterdamer Konservatorium für Musik. Er unterrichtet am Konservatorium in Zwolle. Seit 20 Jahren arbeitet er mit dem Metropole Orchestra in den Niederlanden.

Gemeinsam präsentieren die vier unbändigen Klangmaler Strassmayers neue Kompositionen und Improvisationen, stets geprägt von lyrischer Schönheit, nahezu telepathischer Kommunikation und rhythmischem Drive.